Hand carved Touch Forms
Wooden Stress Relievers
Handheld Art
The Adult Pacifier
Dummies for Adults
During my younger days visiting museums and art galleries, seeing signs that read: Please do not Touch, inspired a devilish desire to ignore the sign and reach out when no one was looking, especially if it was an interesting organic shape. I made a vow that all my creations as a sculptor and wood carver would cry out to be touched by the soft, smooth, sensuous, and sexy appearance alone.
Finding an appropriate name for my miniature touch forms was somewhat challenging. Touch forms seems obvious, they are carved to feel sensuous in the hands, they feel almost like glass. The origin of the touch forms stemmed from a challenge by fellow students and friends who were not allowed to smoke in my room but was urged to give up the unhealthy habit.
"I would like to quit but I won't know what to do with my hands," was the familiar reply. So I created forms created by squeezing a piece of clay into the most comfortable shape for their hands. Hence, Touch Forms.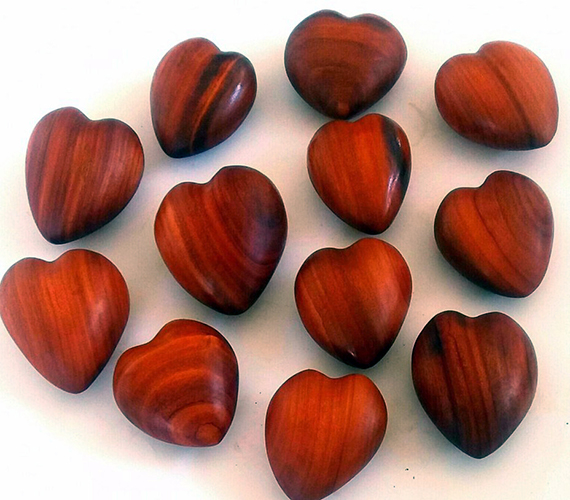 Touch forms became very popular and was the highest sold single item in the gallery, so much so, they became my bread and butter hand carved item. My wife who collects hearts in both stone and wood, announced to me one day, "Why don't you make some hearts?" I seldom disobey my wife so I started carving hearts in all sizes, small as a pendant for necklaces, small as touch forms for children, and a little larger touch for the cigarette smokers, and a large heart as a sculpture.
One blessed day, a tourist confided in me that she is a psychologist and gives my hearts to some of her patients to help relieve stress. 99.5% of my customers are tourists. "Your hands are blessed, there is something about your hearts that seems to offer comfort and relieves stress," said another customer. This was confirmed by a repeat customer by the name of Linda from Massachusetts, who sent me this note:
"Your carved heart has comforted my 100+ year old aunt who died. When she was in hospice, she would not let go of it; her daughter buried her with it. Then my brother just died when I went to visit him in January. He was holding one of your hearts. Your hearts have been a deep blessing, please continue to carve."
Linda still buys hearts as gifts for friends and family when she is in Anguilla or orders online when she is not able to visit. That was the second touch form I am aware of that was buried with the deceased owner.

Handheld Art
There is no mould. Each heart and abstract from is hand carved. The abstract forms are works of art to be fondled and explore in the palms of your hands.
The Adult Pacifier and Dummy
These hand carved forms take me back to my childhood, sucking dummies. Mom or Ma Ma, my grandmother, would always stick one in my mouth to stop the crying and keep me quiet. I hope the touch forms can fill that role for both children and adults.