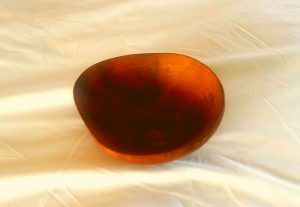 This bowl is precious after a lot of prompting from my fife and a dear friend I finally decided to carve some bowls; This bowl was carved from some Anguilla white Cedar which was curing in my container for over 20 years.
White Cedar is native to Anguilla and grows all over the Island;The small species look like a wild bush but if left alone grows into a reasonable size tree. There are only a few of the large species left and 2 trees can be found in Sandy ground.
Size -six and a half inches in diameter and one and a half inches deep.
The bowl is carved using the natural shape of the branch.
Finish-Mineral Oil.
SOLD