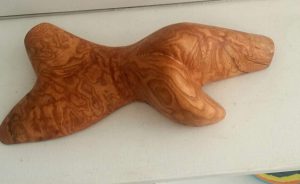 18 inches x 6 and a half inches wide x 5 inches high at the butt.
A visitor to the gallery from the USA sent me two pieces of this wood; neither of us knows the name of the wood; If anyone viewing this sculpture knows the name of the wood please forward it to me. I love the grain of the wood and it is strange that when I was sanding it small dark red spots appeared on the wood as if it was bleeding.
He did not charge me for shipping the wood , I just have to send him a small carving from another small piece of wood he sent.
Free Shipping via Post Office.
If you are an artist or craftsman and wish to start an Online gallery here is the best platform, you can start to build your website for free
[foogallery id="4730″]